SFP Transceivers
To go hand in hand with our range of industrial fibre optic devices, Westermo can supply a wide range of small form-factor pluggable (SFP) transceivers. Supplied with LC connectors, our fibre optic transceivers cover 100Mbit/s to 1Gbit/s over multimode and single mode fibre with distances up to 120km achievable. In applications where only a single core is available, bi-directional (BiDi) transceivers are available. We can also supply copper RJ45 transceivers for Gigabit Ethernet applications.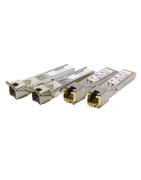 No products available yet
Stay tuned! More products will be shown here as they are added.