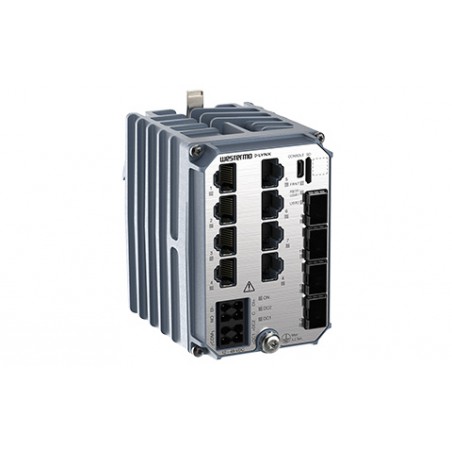 search
 
Westermo Lynx-5612-F4G-T8G-LV
DIN-rail Substation Automation Switch
8 x RJ45, 10/100/1000 Mbit/s
4 x 100/1000 Mbit/s, SFP transceivers supported, Ethernet FX (LC)
Terms and Conditions
Price available only after registration
Out of stock
The Lynx 5612 is a high-performance substation automation-approved Ethernet switch ideal for energy and substationautomation applications.
It is the most compact high-performance switch for energy systems on the market. It has been developed with the needs ofcurrent and future networks in mind. Combining outstanding performance, durability and reliability, it is ideal switch for handlingbig data and high bandwidth requirements.
Critical energy infrastructure cannot tolerate interruptions of service which is why the switch is engineered to maintainuninterrupted data communication even in exceptionally harsh environments. It has been tested and verified to withstandextreme temperatures, vibrations and EMI and fulfills the requirements defined in and IEC 61850-3 Ed.2
Furthermore, only industrial grade components are used which contributes towards a market leading mean time between failure(MTBF), maximized service life and reduced operational and life cycle costs.By providing full gigabit speed on all 12 ports, four flexible SFP ports and layer 2 and layer 3 functionality, a broad range ofapplications are possible. Powered by the next generation WeOS operating system, which ensures robust operation andsupport for an expanding range of protocols and features. In addition, recognizing the growing sophistication of cyberattacks, anextensive suite of cyber security tools is available.
The switch is also prepared for routing acceleration, extended cybersecurity and time synchronization IEEE 1588v2 applications,making it the ideal solution to meet future security and bandwidth requirements.
✔ Ideal for substations and their communication networks
• Supporting various substation topologies
• Dedicated IEEE 1588v2 PTP hardware
• Multiple network resilience solutions
✔ Uncompromising performance at class-leading compactness
• Markets most compact high-performance IEC 61850-3 switch
• Bandwidth for today and the futures networks expansions
• An evolving platform providing maximum service life
• Featuring 5th generation WeOS including an array of cybersecurity features
✔ Proven robustness and reliability
• Designed for demanding mission critical applications
• High EMI immunity with comprehensive approvals
• Diminishing risk for downtime and maintenance-free operation for years
Data sheet
Connection

Gigabit
RJ45
SFP
≥11 Ethernet ports

Input voltage

12 VDC
24 VDC
48 VDC

Standard

IEC 61850-3

Installation

DIN-rail

Certification

UL
n/a
Other products you may be interested in