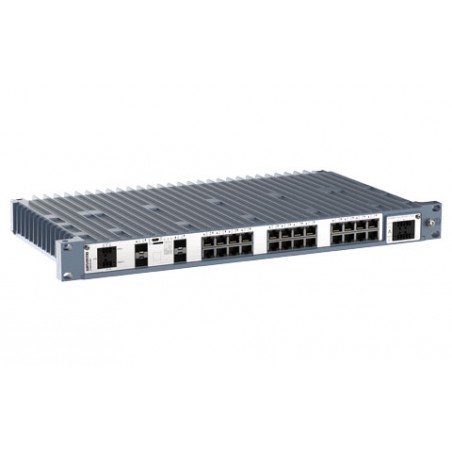 search
 
Westermo RedFox-5728-E-F4G-T24G-HVHV
19" Managed Substation Automation Switch
110 to 240 V AC/DC
4 x 100/1000 Mbit/s SFP transceivers supported, Ethernet FX (LC)
24 x 10/100/1000 Mbit/s, Ethernet TX, RJ-45
Terms and Conditions
Price available only after registration
Out of stock
RedFox-5728 takes communication reliability for substations to a new level. We know that in critical substation automation applications, even the loss of a single piece of data can disturb the operations, and that is why RedFox-5728 brings the highest reliability to your network. Withstanding the toughest environmental conditions, including the high EMI levels derived from load switching and lightning strikes and extreme ambient temperatures RedFox-5728 ensures 100% uptime, no matter what.
IEC 61850-3 and IEEE 1613 standards define the requirements and test levels for networking devices. They specify two different device reliability classes: Class 1 devices, which allow for communication errors; and Class 2 devices, which do not allow loss of single transmission package even during the highest EMI bursts. RedFox 5728 meets or exceeds all test levels for Class 2fulfilment, attaining KEMA type test gold certification, ensuring zero down-time, communication losses, delays or errors.
Superior build quality, the exclusive use of industrial grade components and extensive in-house testing results in class-leading MTBF and extended service life. Designed to run efficiently from either one or two power inputs, with dual internal power supplies fully isolated from each other and all other interfaces. The 28-port switch has all connectors located at the front for easy access and a range of different port configurations, customizable with SFP transceivers.
For resilient operations in substations not only is the most robust hardware needed, but also the most robust software. Available with both layer 2 and layer 3 functionality, RedFox-5728 is powered by the next generation WeOS operating system, which ensures continuous operation and support for an expanding range of protocols and features. Intuitive set-up and configuration enable easy and cost-efficient installation and removes the need for specialized IT support or training. Recognizing the growing sophistication of cyberattacks, an extensive suite of cyber security tools is also available. RedFox 5728
✓ High performance and configurable
• 28 Gigabit ports with up to 16 SFP fibre ports
• Powerful CPU and switchcore
• Advanced WeOS functionality
✓ Designed for demanding energy applications
• Single or dual power supply
• Withstand voltage drops during 50 ms
• IEC 61850-3 and IEEE 1613 Class 2 approval
✓ Robust and reliable for long service life
• Preliminary MTBF 650.000 - 850.000 hours (Telcordia)
• -40 to +70 °C without ventilation holes
• Ultra-robust IP40 19" rack/wall mount housing
✓ Unique future proof industrial networking solutions
• Transparent to PRP, GOOSE, SV and MMS
• Advanced Cyber Security feature set
• FRNT or RSTP/STP Ethernet Resiliency
RedFox-5728-E-F4G-T24G-HVHV
Data sheet
Connection

Gigabit
RJ45
SFP
≥11 Ethernet ports

Input voltage

100-240 VAC

Management

Layer 2 managed
Layer 3 managed

Standard

EN 50121-4
IEC 61850-3

Installation

19" Rack

Certification

UL
Other products you may be interested in