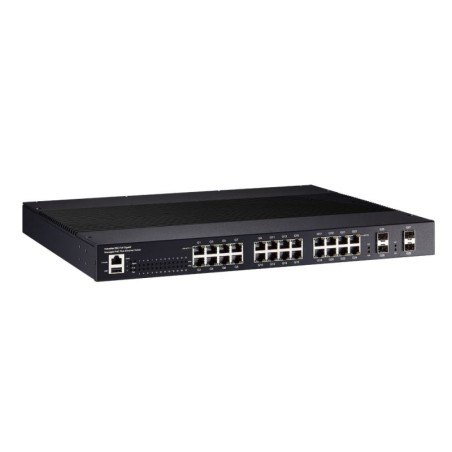 search
 
Korenix JetNet 6728G-24P-AC-2DC-EU V1.0
Industrial 28G Full Gigabit Managed PoE Plus Ethernet Switch
24 100/1000Base TX with 24/16 PoE Plus ports, 4 Gigabit SFP ports .
Advanced Cyber Security DHCP Snooping, IP Source Guard, Dynamic ARP Inspection, L2/L3/L4 Access Control List (ACL) .
Advanced Cyber Redundancy - MSR, SuperChain, ITU-T G.8032 ERPS .
USB Firmware upgrade and configuration backup and restore .
EEE Energy saving .
Friendly Device and Auto Network Topology utility .
Isolated redundant power inputs with VDC power or 110/220 VAC power .
Embedded 300W AC power .
Compliance with EN50121-4 .
-40 to 75°C operating temperature, fanless.
Terms and Conditions
Price available only after registration
Out of stock
The JetNet 6728G series is a 19-inch Full Gigabit Industrial PoE Plus switch and is specially designed for surveillance application that operate in extremely harsh environments With full Gigabit capability, the JetNet 6728G increases bandwidth to provide high performance and the ability to quickly transfer large amounts of video, voice, and data across a network. In addition, the JetNet 6728G provides the Korenix patented PoE technology, the Korenix cyber security+, the Korenix cyber redundancy+, and the isolated redundant power supplies to ensure the high secure and high availability for mission critical industrial applications.
JetNet 6728G-24P-AC-2DC-EU V1.0
Download
DS_JetNet6728G_V1.6_20220601.pdf
Other products you may be interested in