Back

Products

Westermo

Průmyslové ethernetové přepínače

Bezdrátové a mobilní sítě

Korenix

Elproma
WeConfig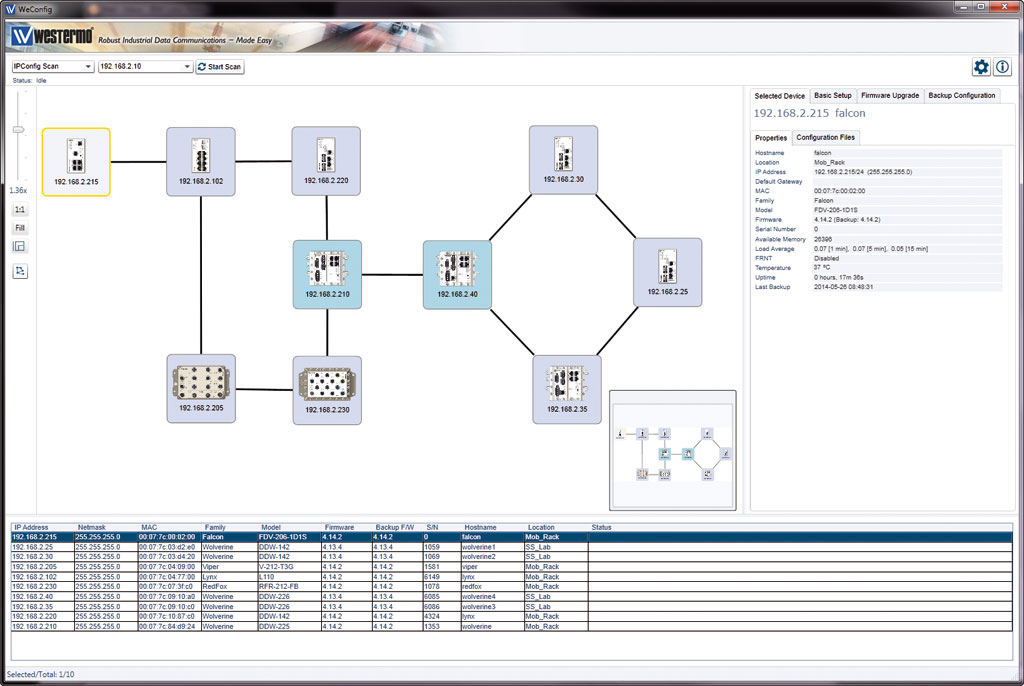 WeConfig makes configuration and management more efficient, simple and reliable. Many hours of configuration work can be saved during initial installation and in-service maintenance. Time-consuming tasks can be handled automatically from one place for the entire large installation when setting up or updating. WeConfig minimizes the risk of human-related setup errors while recommending the optimal network configuration. A properly configured and monitored network with a simple and robust management tool minimizes the risk of communication failure or financial loss. Proper documentation of the network configuration is prepared automatically by WeConfig.
Secure your network
Simple deployment of system security features minimizes the risk of unauthorized access. Security analysis helps find and fix network vulnerabilities. Use WeConfig to ensure and maintain a high standard of network security.
Examples of options:
Distribute MAC address filters throughout the system
Changing passwords throughout the system and analyzing their strength
System 802.1x configuration
Threat detection (configuration file vs. settings)
Setting per-port limits
Bulk deactivation of unused ports
Discover and fix the problem before it occurs
Diagnostic tools for high network reliability. WeConfig ensures network transparency and brings all information into one place, and the simple interface then allows for easy diagnostics and monitoring. You can configure the network map as needed while displaying all related information in an intuitive background.
Examples of options:
Advanced SHDSL Line Interference Diagnostics (SNR)
Indication of communication on port
Statistics for each port
FRNT status
Quick overview of link information
SNMP traps
Alarm and event monitoring
Device temperature and SFP
Efficient management
Careful and continuous network management is the key to reliable operation for extended periods of time. Regular configurations, backups and proper documentation are extremely important in the event that an error occurs. Any new configuration, upgrade or extension of an existing solution carries the risk of the network becoming unstable or malfunctioning. WeConfig has been developed to make network reconfiguration and upgrades simple and secure. Implemented features minimize the risk of error and automatic backups leave a backdoor open for immediate reversion to the last working configuration.
Examples of WeConfig - link
WeConfig 1.15.0 - link